The NEU has called for an investigation into its new figures that suggest that school staff are at greater risk of contracting COVID-19.
The UK's biggest teaching union has revealed that teachers have been almost twice as likely to catch COVID-19 as the rest of the population over the last few months.
Analysis by the National Education Union (NEU) has found that teachers across primary and secondary schools have been 1.9 times more likely to have the virus, and special school staff have been twice as likely to have it.
According to the union, the figures for support and other school staff with COVID-19 are even higher – with infection rates among school support staff three times higher in primary schools and nearly seven times higher in special schools.
The NEU have based their figures on new data from the Department for Education showing the number of teachers and support staff who have confirmed cases and are self-isolating. It has used these numbers to produce an average figure over time and compared this with COVID-19 levels in the general population.
The union have produced the below graphs to show COVID rates among teachers and staff in UK schools: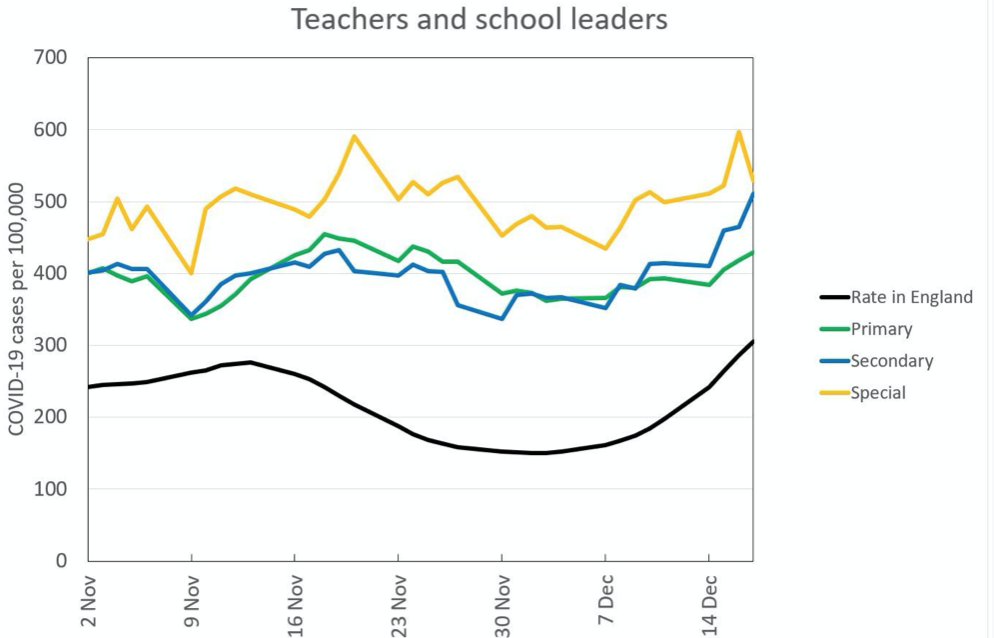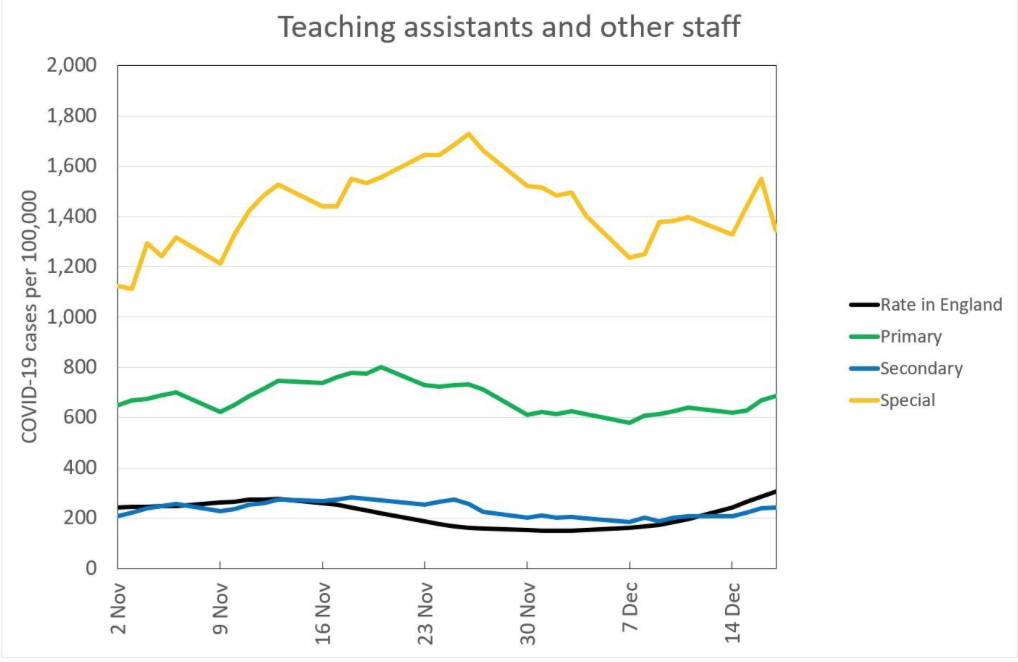 NEU joint general secretary Mary Bousted described the figures as "shocking" and said they raise a number of questions for the government.
Dr Bousted said: "These shocking figures raise further very serious questions about the handling of coronavirus in schools.
"What investigations have the Department for Education made into these figures?
"Why have the ministers repeatedly told school staff and the public that there was no reason for concern when these figures indicate that there should have been real concern about the much higher Covid infection rates of teachers and other school staff?
"Why did ministers deny clinically extremely vulnerable staff the right to work from home?
"Why has it taken ministers so long to release this data?"
"What mitigating measures will ministers now propose?"
NEU launches new Remote Education Hub to support education staff delivering remote education
In other news, the NEU has launched an innovative new online resource to help teachers and support staff deliver remote education to pupils during lockdown.
The Remote Education Hub features expert advice along with guidance from the union and a unique social network that will allow members to share resources, tips, advice and support.
The NEU is the first union to use the social network approach for its members as it continues its ongoing investment into digital technology. On the hub, members will find tips for pedagogical approaches they can use in remote education as well as guidance on other aspects of teaching remotely, such as workload and safety considerations.
Speaking about the launch of the Remote Education Hub, Dr Mary Bousted said: "The NEU's new Remote Education Hub brings together guidance with expert advice on pedagogy for remote learning, freely available to all, with a bespoke platform for members to share innovative practice and to support each other through the obstacles.
"Already, over 100,000 people have accessed the website and more than 1,000 NEU members have shared their ideas and resources on remote education with their peers. This network will grow and develop as teachers identify new, imaginative and creative ways to engage and motivate pupils learning outside school.
"While many organisations are offering welcome subject resources and content for teachers to use, the NEU's Remote Education Hub puts the spotlight on the different ways of teaching and keeping pupils learning, at a distance. Its focus is on teaching a broad curriculum, and encouraging deep learning.
"The hub is putting education professionals at the heart of developing professional practice."